timeNough is a time-related enterprise software with less interface and complexity. This is also the name of the two legal entities founded in 2022 by Arnaud M. Lagardère and Benjamin Caumeil: timeNough Inc. and timeNough Europe Inc. Using the noun time with the adjective enough, and the letter e completing the first word and starting the second, we have the name "timeNough". In terms of pronunciation it gives: \ ˈtīm-i-ˈnəf \. A shorter way to access this website is tmngh.com.
Normally, enough would come before time, but the inversion was chosen on purpose: a B2B software that makes sure you're not wasting time. The term "time-related" refers to any situation at work in which time is of paramount importance or could lead to serious consequences, such as the measurement of clock-ins and clock-outs at the office, pauses, lateness incidents, and days off.

An enterprise software is computer software used to satisfy the needs of an organization rather than individual users. And an interface is a shared boundary across which two or more separate components of a computer system exchange information. timeNough's starting point is to emphasize that office employees are required to deal with too many interfaces on a daily basis, so the goal is to reduce them as much as possible with the hope of reducing their ability to cause anxiety.
As with many startups, we had to create and share a special document called a Pitch Deck at some point. In order to integrate an accelerator or an incubator, but also in order to find angel investors or venture capitalists, you often need a Deck containing relevant information. This blog post will share with you a few of the slides that were used in the document in order to introduce you to timeNough.
History of the project timeNough or TMNGH
It started on Monday, 11th October 2021: in his last unemployment period, Arno Lagarder initiated an enterprise software project called TimeNough. Dr. Benjamin Caumeil, his best friend, surrounded him and both decided to bootstrap everything for the early stages of the venture. They each invested a lot of their own money with a little Friends and Family round.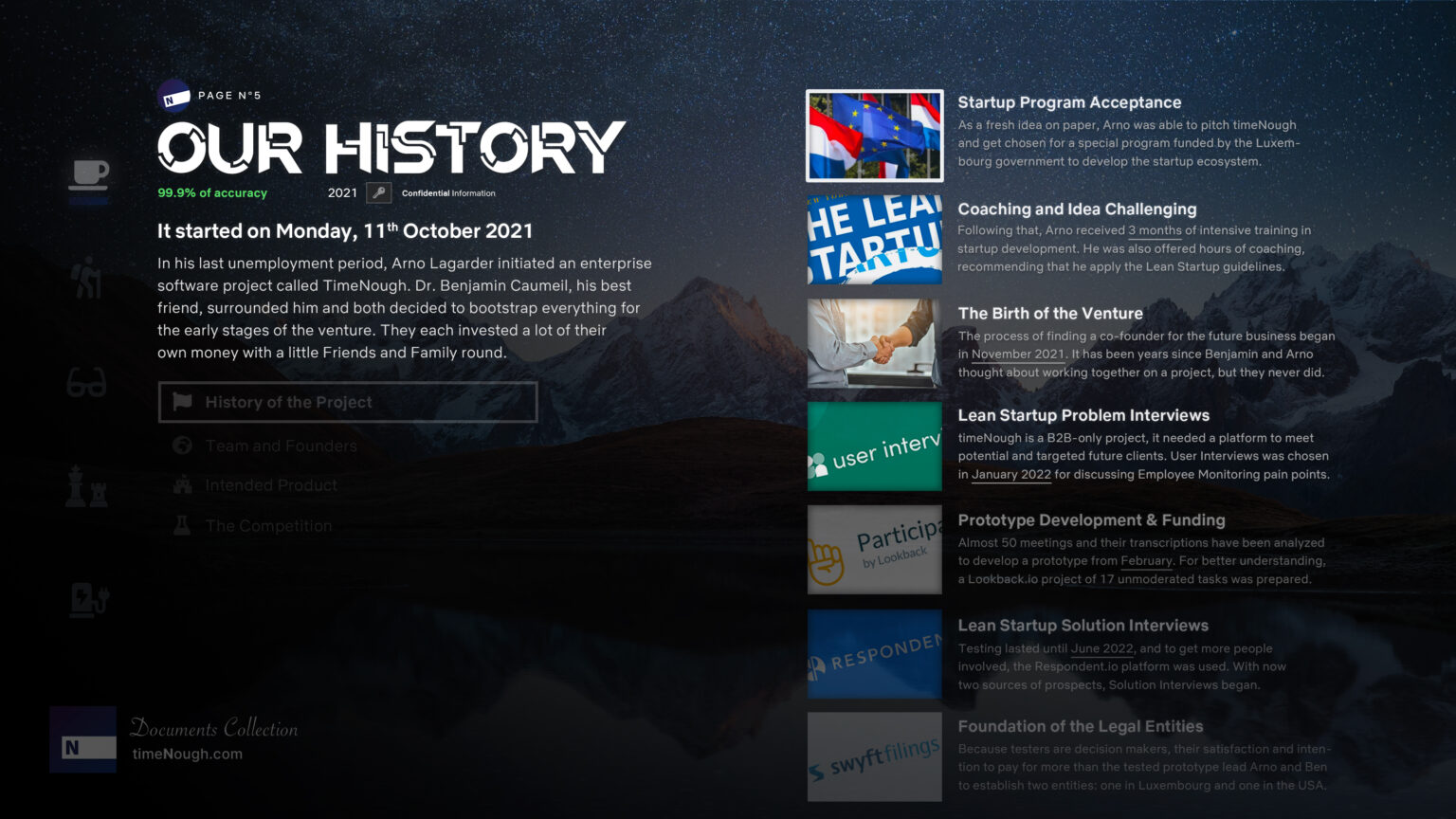 Startup Program Acceptance
As a fresh idea on paper, Arno was able to pitch timeNough and get chosen for a special program funded by the Luxembourg government to develop the startup ecosystem.
Coaching and Idea Challenging
Following that, Arno received 3 months of intensive training in startup development. He was also offered hours of coaching, recommending that he apply the Lean Startup guidelines.
The Birth of the Venture
The process of finding a co-founder for the future business began in November 2021. It has been years since Benjamin and Arno thought about working together on a project, but they never did.
Lean Startup Problem Interviews
timeNough is a B2B-only project, it needed a platform to meet potential and targeted future clients. User Interviews was chosen in January 2022 for discussing Employee Monitoring pain points.
Prototype Development & Funding
Almost 50 meetings and their transcriptions have been analyzed to develop a prototype from February. For better understanding, a Lookback.io project of 17 unmoderated tasks was prepared.
Lean Startup Solution Interviews
Testing lasted until June 2022, and to get more people involved, the Respondent.io platform was used. With now two sources of prospects, Solution Interviews began.
Foundation of the Legal Entities
Because testers are decision makers, their satisfaction and intention to pay for more than the tested prototype lead Arno and Ben to establish two entities: one in Luxembourg and one in the USA.
Team and Founders: two best friends
18 years of an unbreakable friendship: the two met in southwest France when they were 16 years old, and haven't lost touch since. In Paris, one of them is now a doctor of sport psychology, supervising athletes data analysis every day, and in Luxembourg, the other is a self-taught, 11-year veteran of application development for websites and mobile from Dax in France.
They came up with a prototype of 8 features in 26 days, pitched it to curious decision makers through Lookback.io, and recently succeeded in convincing some of them to even purchase it in its current and minimalistic form. What's next? B2B collaborations for improving the prototype and making it a tailored solution.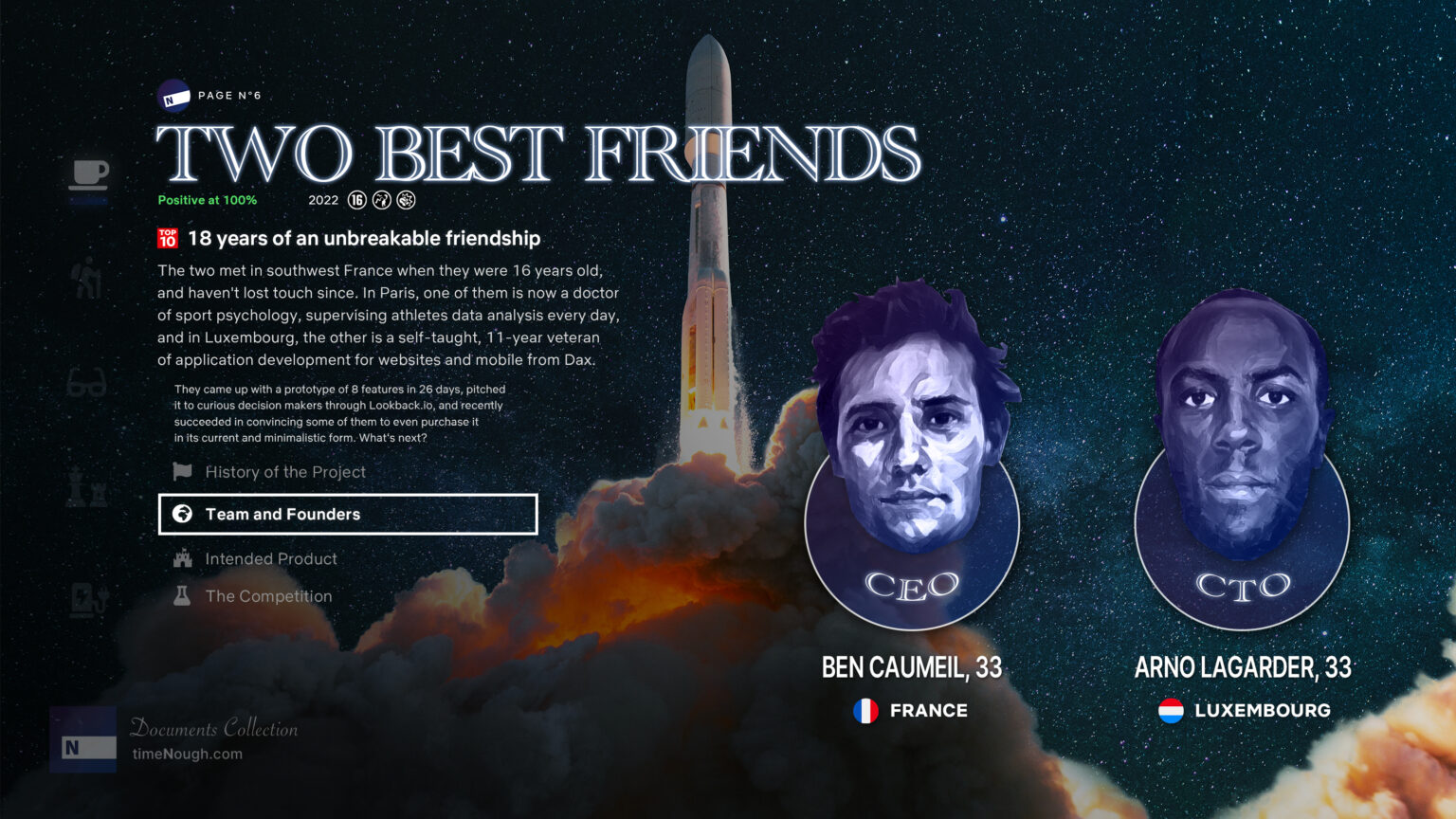 Intended Product: bold and brilliant
A new time-related enterprise software with interfaces that can be directly accessed in the inbox of the user, rather than requiring him to sign in to another. A program made of silent bots, based on machine learning, designed to be hidden behind internal email addresses of a company, but can be controlled and piloted by employees through email signals. APIs for integration and automation are now the rule, but with an email requests systems, it's more accessible and simple.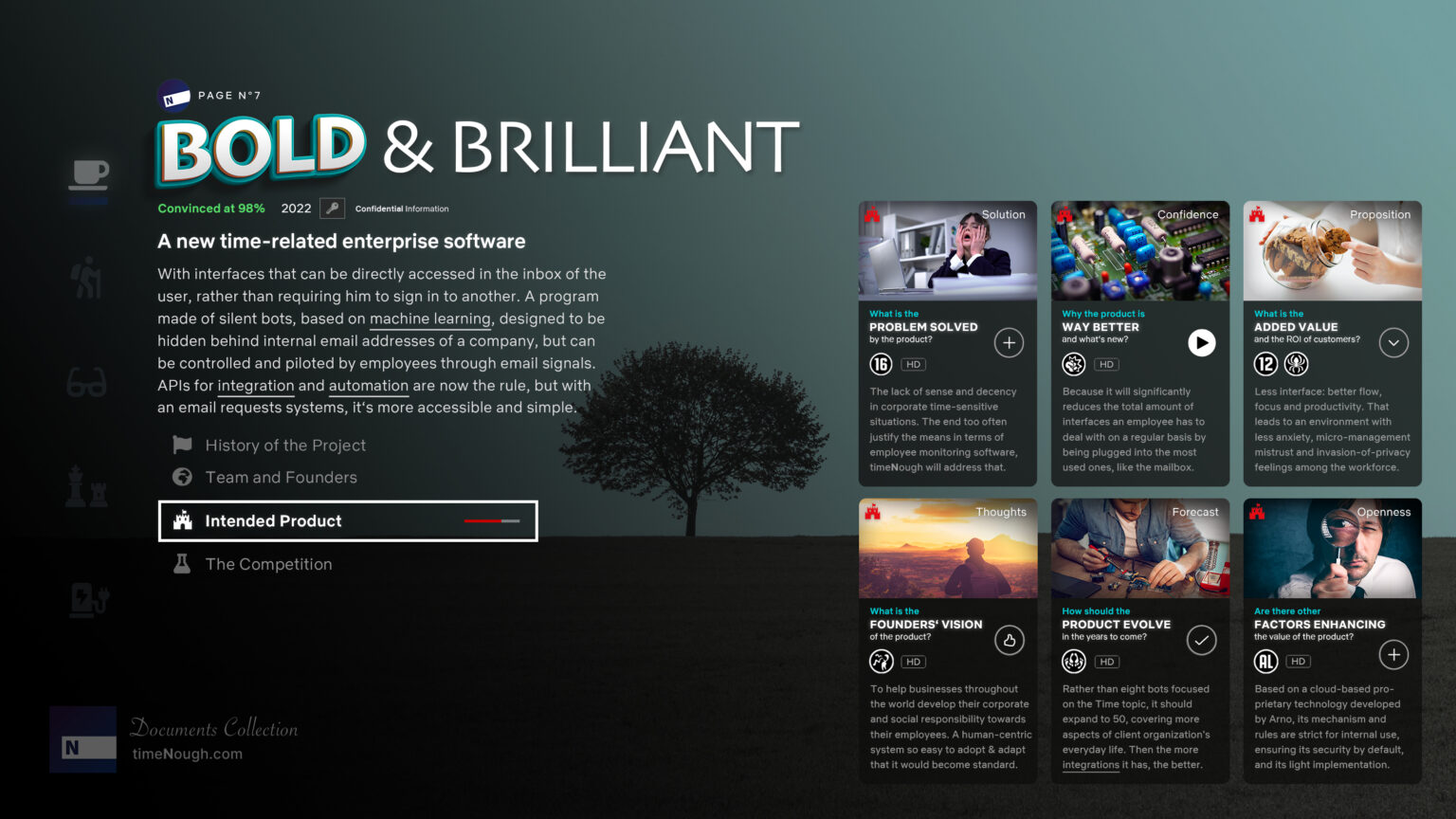 What is the problem solved by the product?
The lack of sense and decency in corporate time-sensitive situations. The end too often justify the means in terms of Employee Monitoring Software, timeNough will address that.
Why the product is way better and what's new?
Because it will significantly reduces the total amount of interfaces an employee has to deal with on a regular basis by being plugged into the most used ones, like the mailbox.
What is the added value and the ROI of customers?
Less interface: better flow, focus and productivity. That leads to an environment with less anxiety, micro-management, mistrust and invasion-of-privacy feelings among the workforce.
What is the founders' vision of the product?
To help businesses throughout the world develop their corporate and social responsibility towards their employees. A human-centric system so easy to adopt & adapt that it would become standard.
How should the product evolve in the years to come?
Rather than eight bots focused on the Time topic, it should expand to 50, covering more aspects of client organization's everyday life. Then the more integrations it has, the better.
Are there other factors enhancing the value of the product?
Based on a cloud-based proprietary technology developed by Arno, its mechanism and rules are strict for internal use, ensuring its security by default, and its light implementation.
The Competition: startup context
+10 Employee Monitoring Software options: since we referring to well established rivals with thousands of users in corporate environments, little timeNough will take aim at their common weakness: a dedicated interface is required to interact with the monitored end user, whom they must train before… Less interface, less clicks, a light training for a better flow. All the links of this Pitch Deck are available at https://bit.ly/3HtKgj6 in something called: Wall of Links, proposed by Padlet.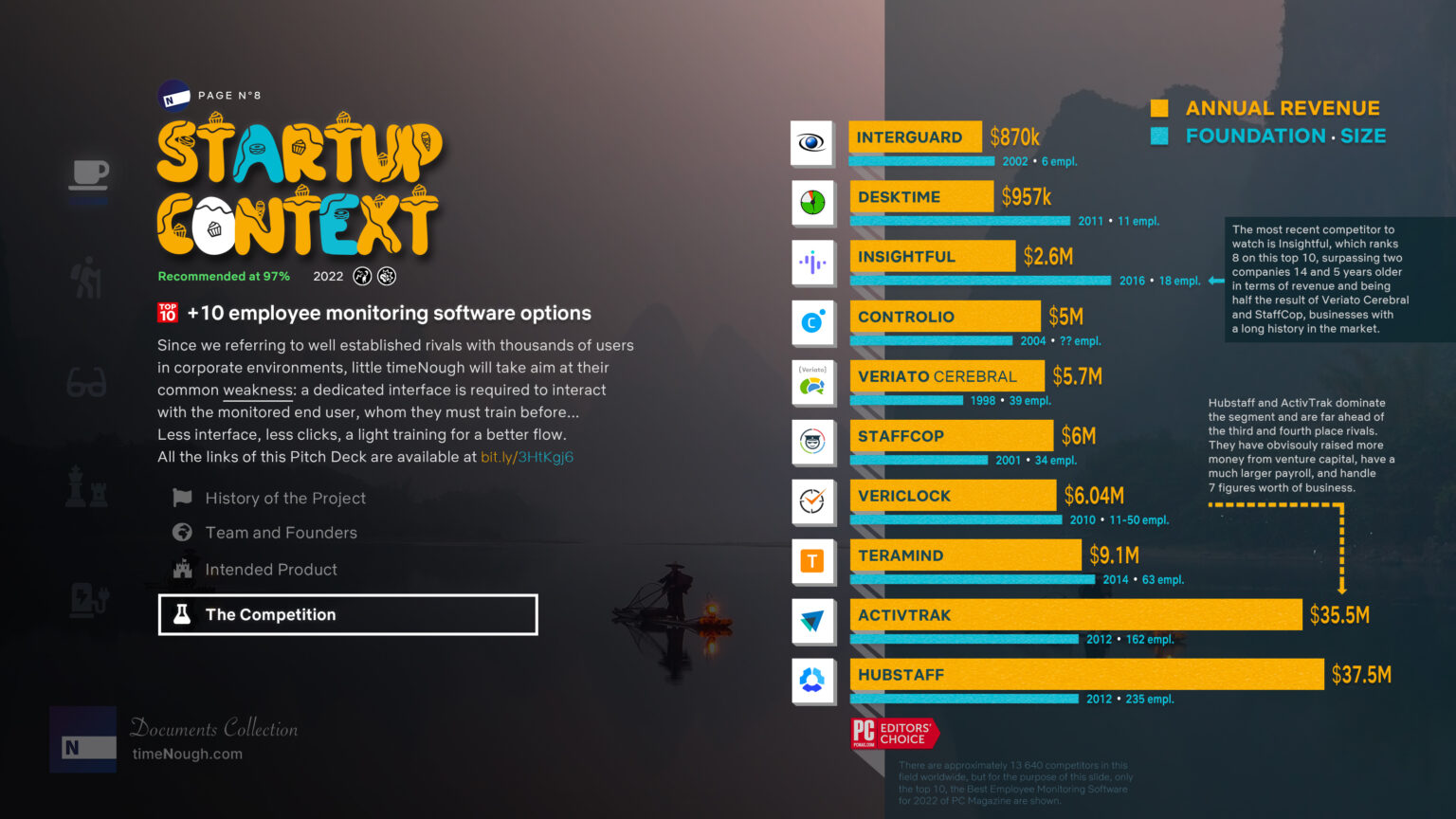 The most recent competitor to watch is Insightful, which ranks 8 on this top 10, surpassing two companies 14 and 5 years older in terms of revenue and being half the result of Veriato Cerebral and StaffCop, businesses with a long history in the market.
Hubstaff and ActivTrak dominate the segment and are far ahead of the third and fourth place rivals. They have obviously raised more money from venture capital, have a much larger payroll, and handle 7 figures worth of business.
The Market: chapter n°2
Productivity, Surveillance and Privacy concerns: by 2028, analysts expect the Global Employee Monitoring Software Market to reach USD 6.84 billion with a CAGR of 25.4%. It is actually estimated to be worth more than USD 2 billion. Since March 2020, global demand for Employee Monitoring Software has risen by 78%. This is a sustained demand, 59% higher than before the pandemic, that is made by employers towards their employees, causing a really controversial market in terms of ethics.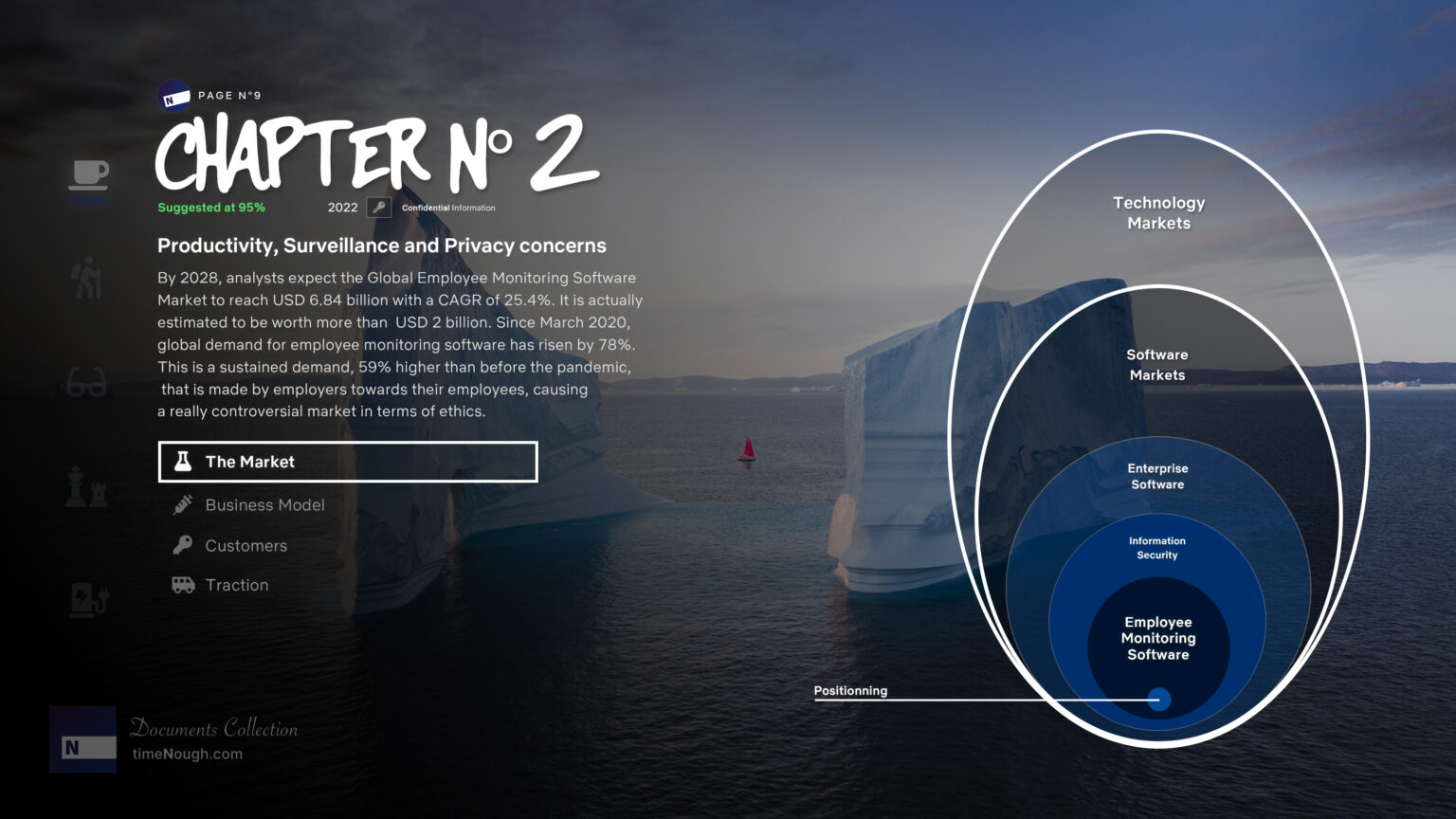 Business Model: another SaaS
Recurring payments with low churn rates: timeNough will be a centrally hosted software licensed to BtoB customers via a subscription plan. The company that runs it maintains responsibility for the servers, databases (and the data contained in them), as well as other software that facilitates access to and use of the product. SaaS pricing model should follow the "Tiered Pricing Strategy" with three packages at the beginning, but it is still to be determined.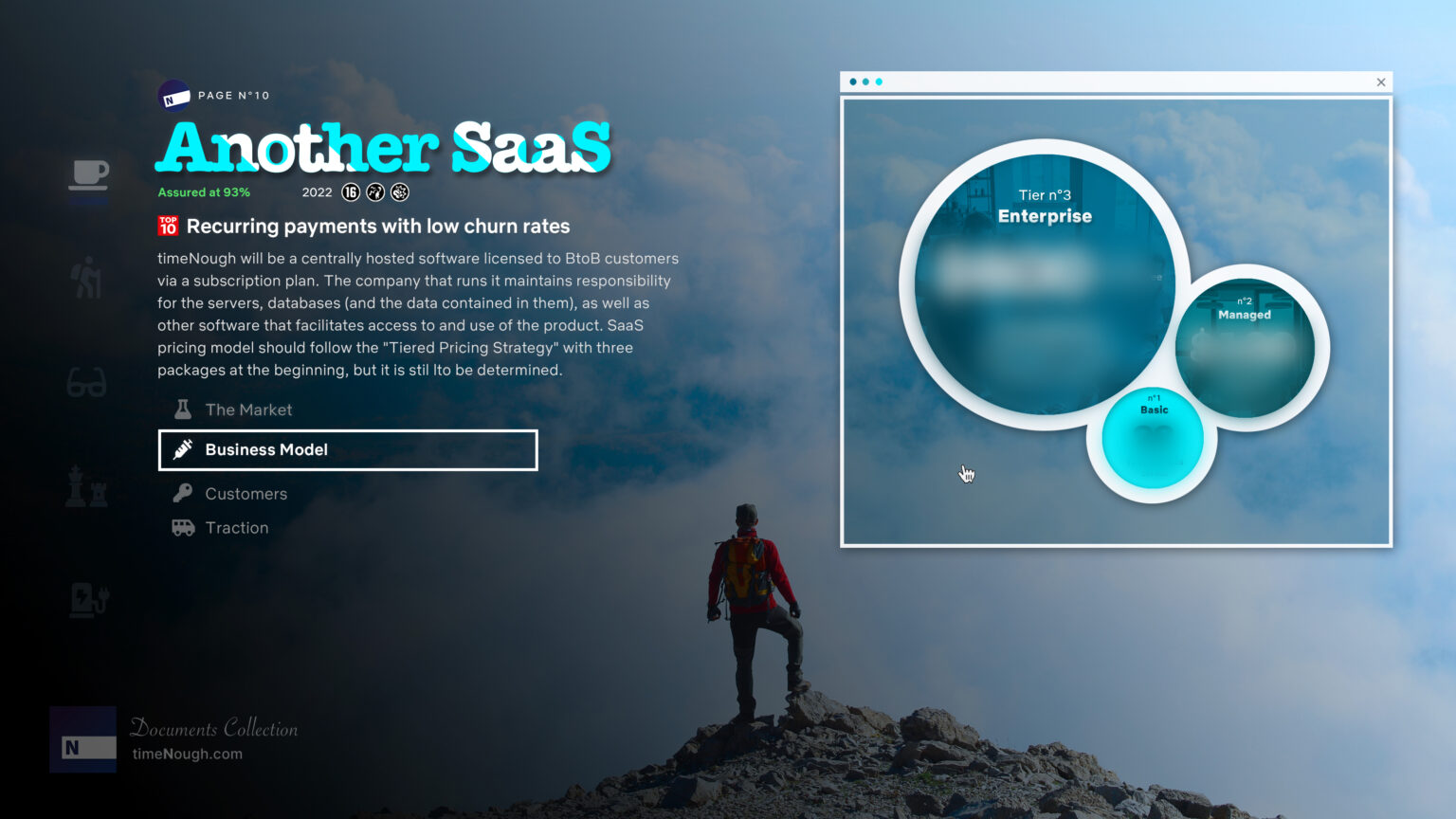 More about the clients of TMNGH
Better call them Prospects and Testers: at the time of this document's edition (in June 2022), timeNough was still in a pre-revenue stage, which means that potential users have been invited to test the prototype, but no deal has been signed yet for integration or commercialization.

Prospects are mainly: Corporate decision makers, Business owners, Officers
They are not: Managers, Employees
They come from: Small-sized businesses [10-49], Medium businesses [50-249]
They work for: The IT department, The HR department, The procurement, The leadership
Their job titles are often: Director of Information Technology, Chief Information Security Officer, Human Resources Officer, Chief Executive Officer, Chief Operations Officer, Chief Financial Officer
They understood timeNough: During the Solution interview: 23.5%, Prior to testing it: 11.8%, After testing it: 36.3%, Other moment: 29.4%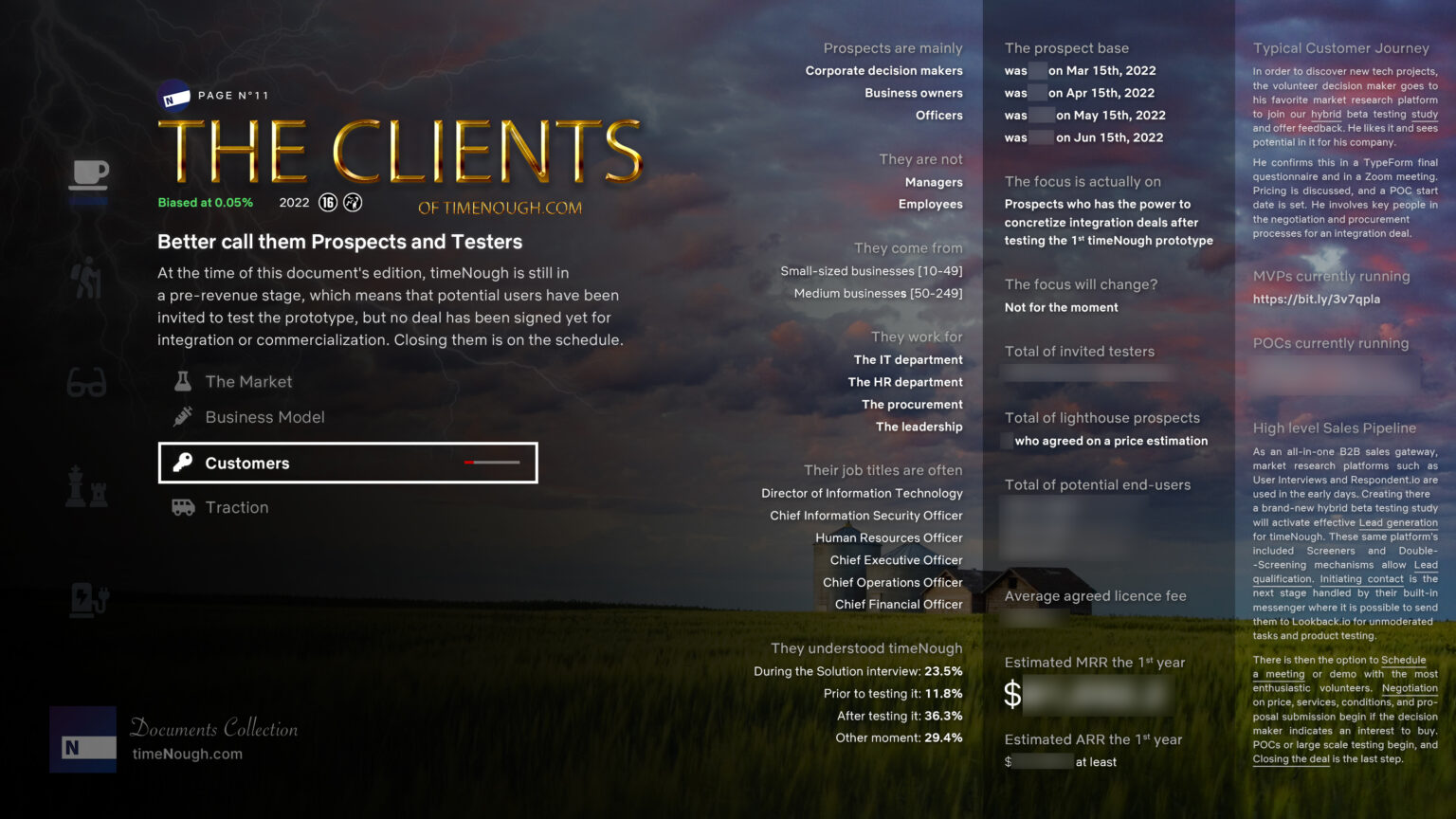 The focus is actually on: Prospects who has the power to concretize integration deals
The focus will change?: Not for the moment
Typical Customer Journey: cannot be detailed here…
MVPs currently running: https://bit.ly/3v7qpla
High level Sales Pipeline: cannot be disclosed here…
Traction and dynamic of the moment
Pre-revenue stage at the date of this post, but since December 2021, timeNough has a series of tangible numbers that have started to grow, like the number of its website's visitors, prospects found and met on market research platforms, testers of the prototype via LookBack.io with debriefs and feedback collected, fans and super fans who liked it and loved it, potential end-users in corporate, subscribers to a newsletter and some followers on social media like LinkedIn, Twitter, Facebook, Instagram and YouTube.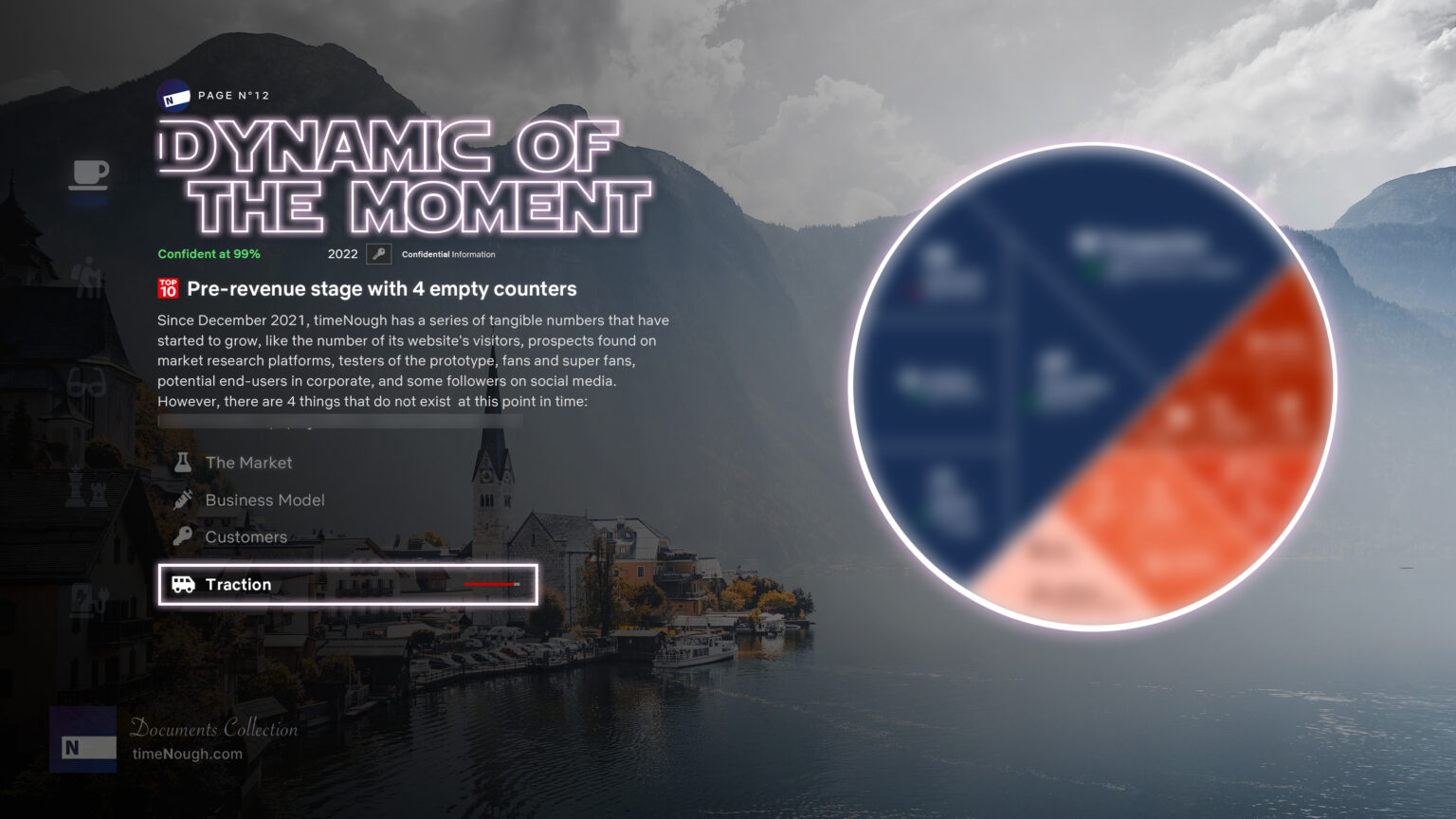 Financing round and fundraising
We have created a working Minimum Viable Product that is currently tested. We have demonstrated some kind of product-market fit and traction. We are currently raising a seed round at an undisclosed amount to expand our product and engineering efforts in collaboration with early-adopters companies who agreed about our Lean Startup approach, then to develop a strong B2B salesforce and to acquire customers. Over the next 18 months following secured investment, we will look to complete a stable version of our enterprise software timeNough, develop its automation and machine learning core.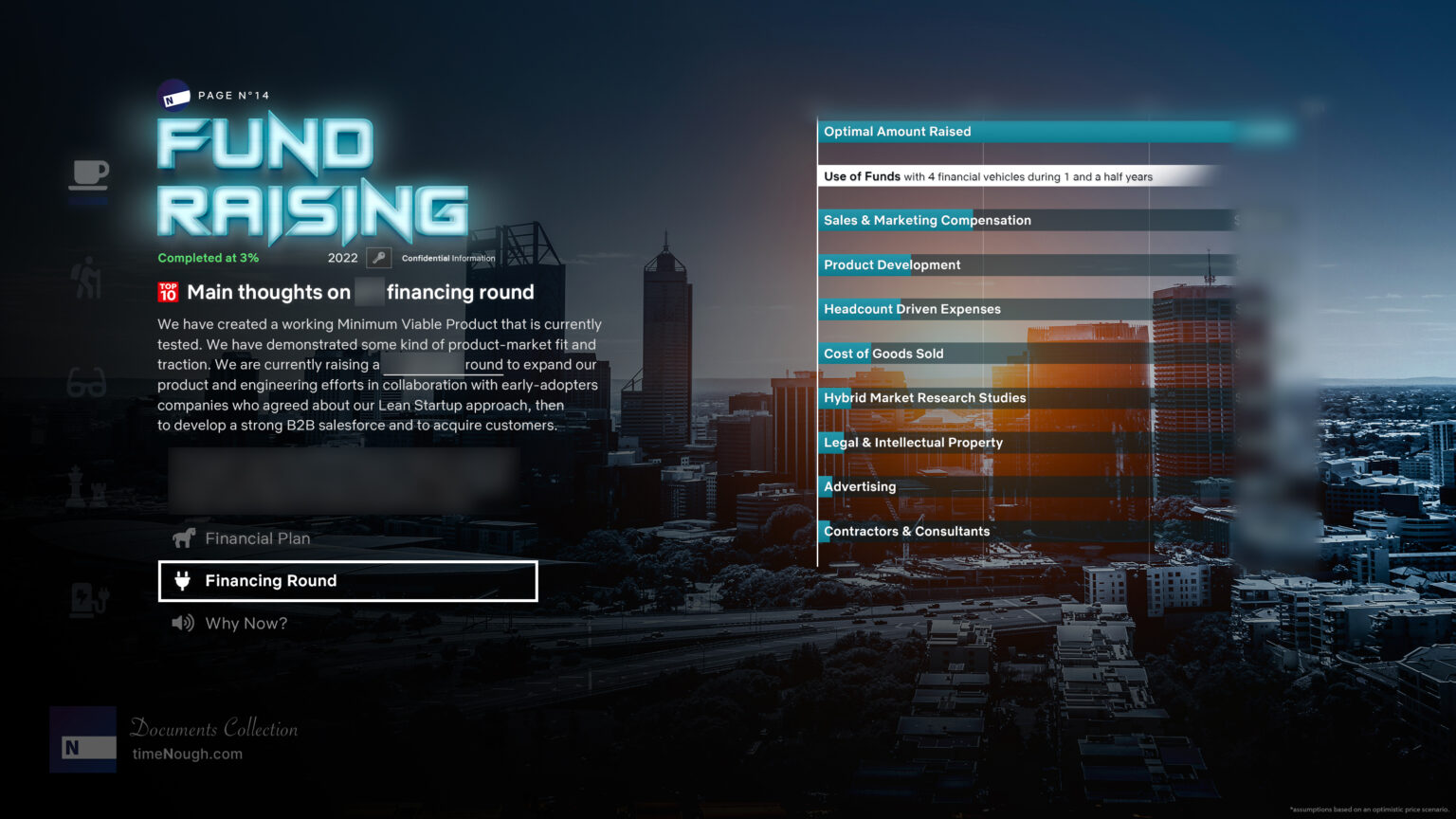 Why a such project now?
This final and crucial question can be answered in three ways. The first relates to what is currently obvious and visible in the enterprise software market as a whole. The second one deals more with the timeline of timeNough and what should be done next. The ultimate one is about a clever discovery made by the founders that needs to be followed up. A recent article has even been published about it here.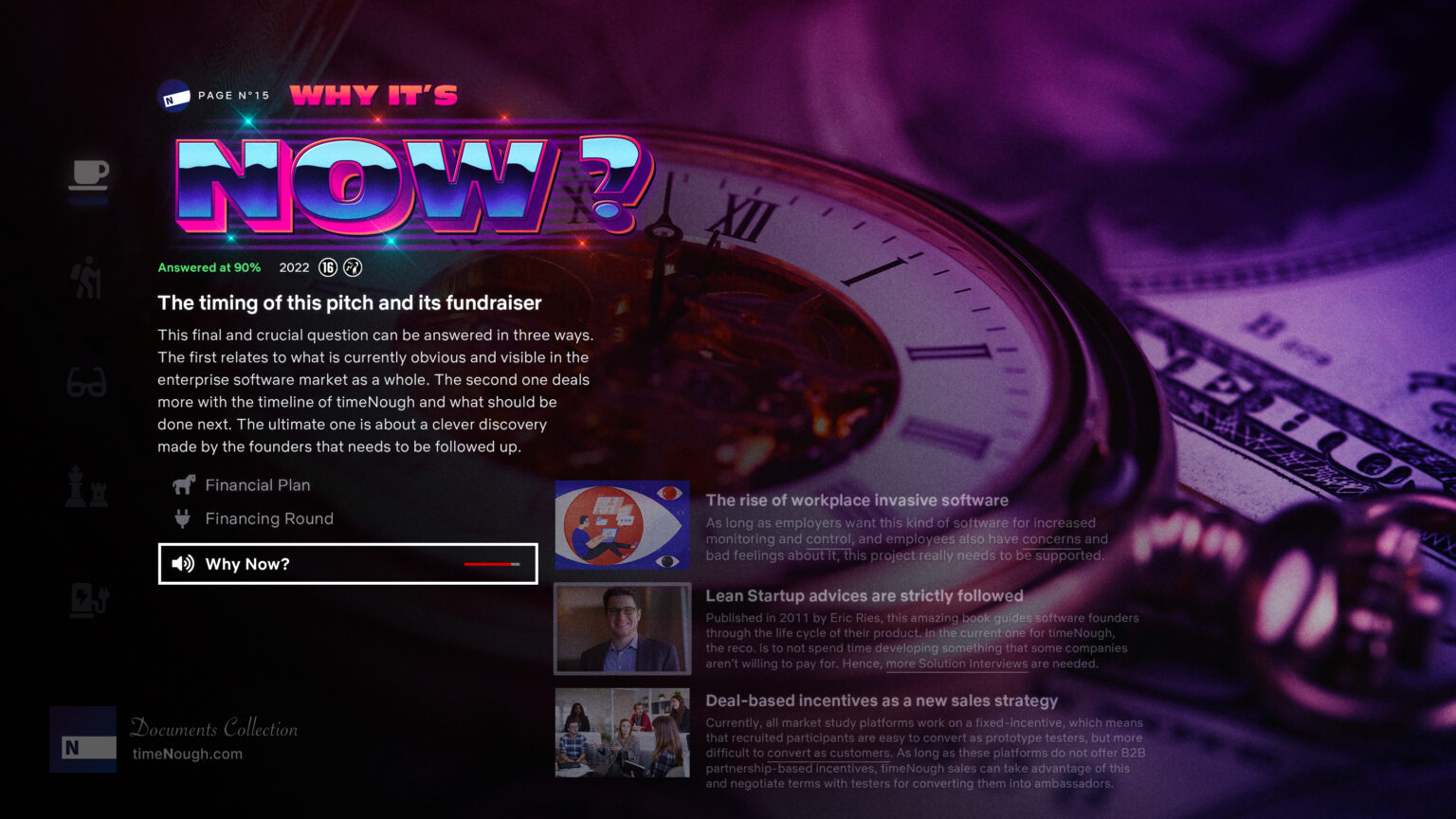 The rise of workplace invasive software
As long as employers want this kind of software for increased monitoring and control, and employees also have concerns and bad feelings about it, this project really needs to be supported.
Lean Startup advices are strictly followed
Published in 2011 by Eric Ries, this amazing book guides software founders through the life cycle of their product. In the current one for timeNough, the reco. is to not spend time developing something that some companies aren't willing to pay for. Hence, more Solution Interviews are needed.
Deal-based incentives as a new sales strategy
Currently, all market study platforms work on a fixed-incentive, which means that recruited participants are easy to convert as prototype testers, but more difficult to convert as customers. As long as these platforms do not offer B2B partnership-based incentives, timeNough sales can take advantage of this and negotiate terms with targeted testers (decision makers) for converting them into ambassadors.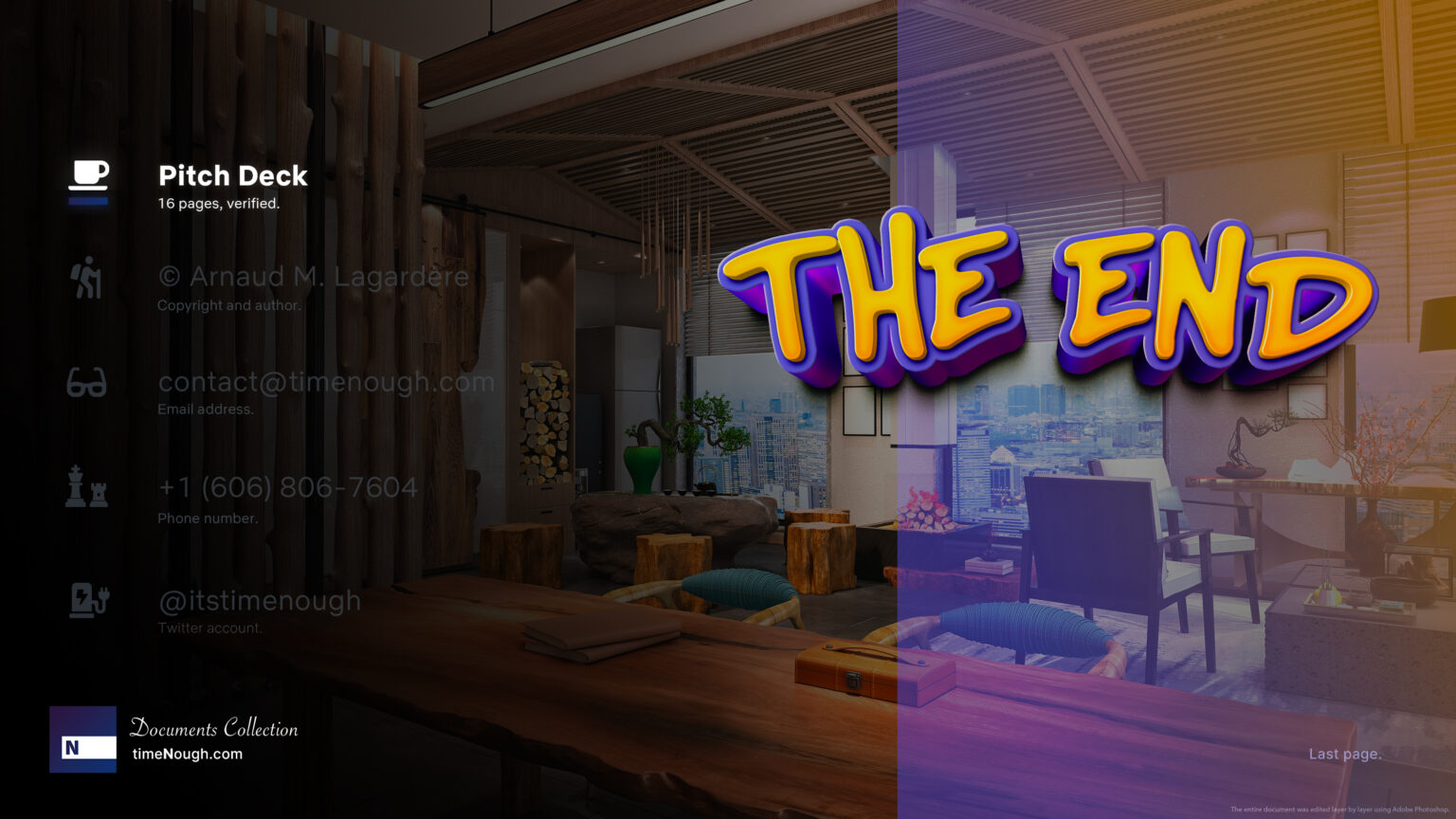 It is now time for this post to come to an end. With this review of some slides from our first Pitch Deck, I hope you have a better understanding of what timeNough is, what the founders hope to accomplish, how a difference can be made, and what they have in mind.
In case you believe the following document in a Netflix theme should be shared with someone in your network, please feel free to forward it to them. Here you can find all the commercial documents of the project, but not all of them have been finalized. Public documents are available there:
https://www.timenough.com/documents
---
Onboarded in timeNough Europe Inc. few days after Benjamin as an old friend of founder Arnaud M. Lagardère, Laure Desegaulx contributes to the blog through her expertise on consumer software and mobile apps, like SwapBook.fr, a startup she founded in 2016 in France, proposing an AirBnB-like platform for students and their unused books.
Author posts